Denise Atkinson
Soul Centered Mediumship
Spiritual/Psychic Medium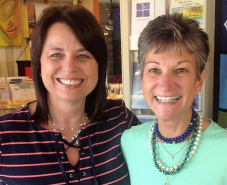 Together, let's bring in the Divine light.
Denise has a lifelong passion for the metaphysical world. Nothing compares to the joy she feels when sharing her gifts of communication with Spirit among her friends and family. After years of growth and study, Denise would love to share the healing experience of a psychic Medium reading with you!
Denise channels her information from the highest possible source and divine guidance. The information she receives for you is person specific and genuine. Denise has dedicated her life to help others with healing messages. She believes, after our loved ones have cross over, they go through a life review and thus have a better understanding of the human condition. Other times our loved ones just want us to know they are with us and will offer information for validation. Spirit wants us to live our lived with compassion, love and forgiveness.
Date: May 4th and 18th

Time: 11:00 am – 5:30 pm
Cost: $65.00 for 30 min
Call, Email or Stop by, make your reservation soon!
Paula Chaffee Scardamalia
author of Weaving a Woman's Life: Spiritual Lessons from the Loom
Tarot Readings
Bring paper and pen if you'd like to take notes and you are welcome to take a photo of the spread at the end of the reading. She combines intuitive understanding along with symbol, metaphor, and mythology to relay the message and meaning of the reading. Paula and the tarot can help you define it, whether it has to do with relationships, work, or your spiritual journey.
Friday, May 19 3:00 PM – 6:00 PM
$65.00 per half hour
Talk &Book Signing
Topic: It's About Time and Space!
Paula will share with you the importance of claiming time and space in your life for nurturing the spiritual and creative aspects of your life. She'll share some tips & stories to help you stop feeling overwhelmed and frustrated by the consequences of putting yourself last on your list of priorities. Her talk will be followed by a book signing.
Saturday, May 20
11:30 AM – 12:30 noon
Dream WorkShop
Unlock the Mystery of Your Dreams:
This 3-hour workshop, you'll learn basic dream techniques to help you remember, record and understand your dreams.
You'll discover what the purpose of recurring dreams and nightmares might be; why you dream of celebrities; and what the best dream dictionary is. Within the circle of attendees, you'll learn the etiquette and process for sharing dreams, and discover how you can use the messages and information from your dreams for all aspects of your life.
Saturday, May 20
1:00 PM – 4:00 PM $75.00 per person
Join us for Ostara
the Spring Equinox
~ break the bonds of winter ~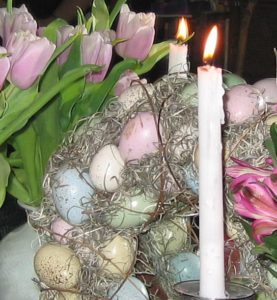 Spring. Thanks to the heat of the returning Sun, the snow melts, the ice thaws. Viriditas, "the green flame" of life pushes through the cold earth as tender blades of grass. We see the green flame in bright forsythia and soft pussy willow, in tulips and daffodils, in smiling pansies. Songbirds break the stillness of winter and fill the air with chatter.
The mythical Maiden breaks her winter slumber. She is the Goddess Oestre, from whom we get the name Ester and the words estrogen and Easter. Look around. Her fertility is everywhere!
When growth begins, something must break. To embrace the potential of spring, what winter bonds must you break? Join ritualist Zita Christian of Moon River Rituals in a celebration of freedom and fertility.
Tuesday, March 28
Time: 6:30 to 8 p.m.
Cost: $14
DREAMS, RITUALS, & JOURNALS:
THREE TOOLS FOR WEAVING A WOMAN'S LIFE
With Paula Chaffee Scardamalia
February 11, 2017
Weaving an inspired life of beauty, strength, and significance is made easier if you have the right tools.
Dream, rituals and journals are three important life tools that Paula writes about in her award-winning book, Weaving a Woman's Life: Spiritual Lessons from the Loom. In this presentation, she'll talk about why these tools are important and why you should incorporate one or all of them into your life, whether you are a stay-at-home mom, a business woman, or a writer or other creative entrepreneur. She'll also answer your questions about how she uses these tools and about her book.
After the presentation, Paula will to sign books. Copies will be available for purchase.
TAROT READINGS & DREAM WORK
With Paula Chaffee Scardamalia
February 11, 2017
Paula has been teaching about the tarot and offering tarot readings to her own clients as well as through destination spas, colleges, metaphysical shops and other organizations for more than ten years.
Her unique tarot readings are usually custom-designed to achieve the most clarity and understanding for your question or concern. She combines intuitive understanding along with symbol, metaphor, and mythology to relay the message and meaning of the reading. The reading is a dialogue between you, Paula and the cards, which is why she gives you a choice of which deck you'd like used for your reading.
The readings will be a half hour. It is to your advantage to come prepared with a question but if you aren't sure of the question, Paula and the tarot can help you define it, whether it has to do with relationships, work, or your spiritual journey. If you are a writer, you are invited to ask a question about your creative process, your story, or other elements of your work such as conflict or characters. Bring paper and pen if you'd like to take notes, and you are welcome to take a photo of the spread at the end of the reading.
Crystal Grids
with Lynne Hartwell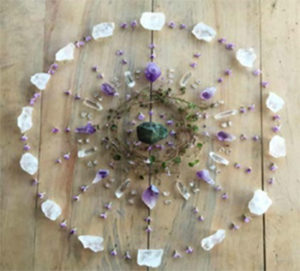 Working with crystal grids raises the bar with your ability to bring balancing energy to yourself, your home, office, or to another. This is POWERFUL healing energy, and information on how to use crystals or crystal grids is still vague and misleading.
Join us for this illuminating and transformational class. You will learn safe and highly effective methods that go beyond what many books or internet sites reveal.
In this class, you will:
Learn how to safely and effectively work with crystal grids
Choose the correct gemstones & crystals for the purpose or intention of your grid
Understand how to design the correct grid formation, every time, regardless of intention
Connect more deeply within yourself and the crystals/gemstones to reach a true level of healing, balance & peace
Date: Saturday, March 4th
Time: 1:00pm – 3:00pm
Cost: $35
Crystal grid starter packs sold separately-)
Spiritual Readings
with Lynne Hartwell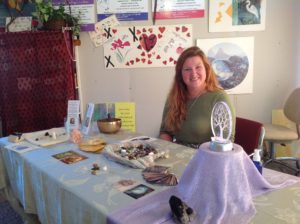 Past Life Experience:
Past Life Experience reading are psychic readings that focus on one issue the has been holding you back or has been repeating without resolution during this lifetime. Lynne will help provide information on how to move forward so you can receive more in your life.
Crystal & Gemstone Intuitive:
Combining the energy healing of crystals & gemstones with a psychic reading helps bring greater balance at a physical, emotional and spiritual level. As part of the reading the meaning of stones and how they relate to you and your life are given to take with you.
Message from Spiritual Guides:
What messages, knowledge or information do you need to know from those working with you in the spiritual realm? Guardian Angles, Angels, Archangels, or Animals work with us, help us move forward along your life's journey. Lynn will help you understand the messages and their role in your current path.
Walk ins welcome but appointments recommended: (860) 649-9941
October 7th: 11:30AM-5PM
$50 – 30 mins
$100 – 60 mins
Samhain
Season of the Ancestors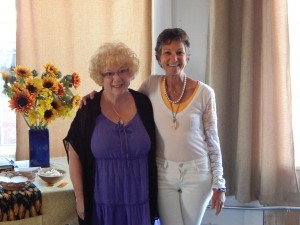 In the Old World, the ritual of Samhain acknowledged the end of the growing season. To prepare for the dying season – winter – people looked to their ancestors for guidance.  Guidance often came from birds. Many believe that birds carry messages to and from the spirit world, home of the ancestors.
Join Zita in a ritual to honor five of our winged friends:
The Crow – Change
The Raven – Illusion
The Hawk – Observe
The Owl – Wisdom
The Cardinal – Begin
Because of the nature of this ritual, all attendees must be at least 16.
Time: October, 25th 6:30 to 8 p.m.
Cost: $14 cash
Meg's Is Proud To Host
Soul Collage
Why do SoulCollage(R)?
Developed by Seena B. Frost, SoulCollage(R) is a process for assessing you intuition and  creating an incredible deck of cards with deep personal meaning that will help you answer life's questions and assist you through life's transitions.
How do you SoulCollage?
Do you have a big pile of images saved in a file or under the bed and you can't figure out what to do with them? Follow SoulCollage(R) directions, and you will find yourself arranging some of these meaningful images on 5X7 cards until they are perfect for you.  After you have moved these fragments around the card, you will glue them onto it, and a work of art specific to you will emerge. You choose the images, (or they choose you!), and  they will come straight through your soul, bypassing your conscious thoughts, to produce your card. This is a multilevel creative process that anyone can do.
What do I need to SoulCollage(R)?

All you need is a good pair of small pointed scissors, precut mat boards, magazines or 
 other sources for images, (like photos, greeting cards, post cards, catalogues, calendars, 
your own artwork, etc.) You can do this work individually, or with others who will share
 the process with you. There are many ways to share the cards, and these will be explained 
to you in the class. Supplies will be brought in for you during class, but if you have
 images that call out to you, please bring them along.
Who will teach the class?
Cindy Kozikowski, RN, MA, is a retired registered nurse, who fell in love with this 
 process about 10 years ago, after accidentally running across an on-line introductory 
 class. After being trained as a facilitator this year, she now devotes much of her
 time to expanding her own deck, and sharing this wonderful process with others as well
 as enjoying her artistic side after putting that on the back burner while working as a
 nurse educator. She is a born teacher who craves sharing her passions with others in.
Saturday, May 14th
1:00 p.m. to 4:00 p.m.
Cost: $50, includes all supplies
Spring, It's all about the birds and the bees and
The Fairies of Beltane!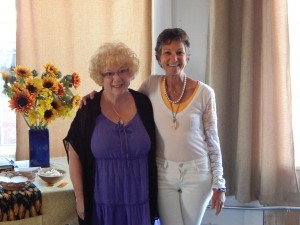 Join us as we celebrate the season of attraction!
The Fairies of Beltane are coming back to Meg's! If you met them last year, you know how delightful they are. If you've never met one, now is the time. These fairies inspire us to give
Come enjoy the delights of Spring.
Meet your own magical fairy.
Date:  May 17th
Time: 6:30 to 8 p.m.
Cost: $14 cash
The fairies have a long way to travel.
To ensure enough of them arrive in time, please reserve early!
Meg at (860) 649-9941 or megsinspirations@att.net
Zita Christian, Life-Cycle Celebrant
MoonRiverRituals.com