A Celebration of the Winter Solstice
With Zita Christian
"Light is returning, even though this is the darkest hour: No one can hold back the dawn"…. From "Light is Returning" by Charlie Murphy / www.EarthSpirit.org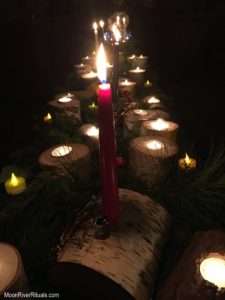 We've spent the last six months in increasing degrees of darkness.
All that changes now!
Join us to celebrate the return of the Sun at the Winter Solstice. The Winter Solstice is one of the four great turning points of the astrological year. Yule is the celebration that derived from the season. Together, they carry the theme of light returning, of the birth of the sun, and the symbolism of eternal life in the evergreen wreath. Look back at the darkness. It's time to reflect, assess, and discard. Look forward to the light. It's time to give birth and renew. Join us as Zita helps us turn the Wheel of Life into the season of light.
Date: Sunday, December 9th
Time: 4:30pm – 6:00pm
Cost: $15