Spiritual/Psychic Medium
Denise Atkinson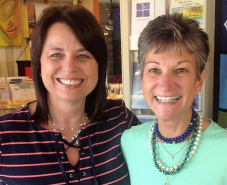 Since 1984, Denise has shared her gift with family, friends and now has been doing private readings with clients.
Denise channels her information from the highest possible source and diving guidance. The information she receives for you is personal, specific and genuine.
Denise has dedicated her life to help others with healing messages.
She believes, after our loved ones have cross over, they go through a life review and thus have a better understanding of the human condition.
Other times our loved ones just want us to know they are with us and will offer information for validation. Spirit wants us to live.
Date: August 18th, 2017

Time: 11:30 am – 4:30 pm
Cost: $65.00 for 30 min
Call, Email or Stop by, make your reservation soon!
Healing Sounds of Intention
Presented by Doug Yaeger & Lynne Hartwell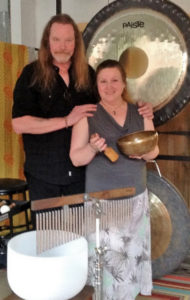 • Return your body ~ spirit ~ mind to a place of peace & tranquility – Manifest into your life what you truly intend.
• Positive energies of the evening with the healing and soothing sounds of gongs, Tibetan bowls, crystal pyramids, tingshaws, indigenous flute, drums and rattles, calming vocals and energy healing.
• Bring any intentions that you may have (what you want to bring into your life or what you want to let go of), and
have them heightened through the healing sound vibrations and energy.
You will be sitting or lying down for nearly an hour, so please bring a yoga mat or blanket, water to drink and/or anything else that makes you comfortable and relaxed.
Wednesday, August 16th
6:30 pm to 8:00 pm
$30 Per Person
Call or e-mail Meg's to reserve your spot.