Healing Sounds of Intention
Presented by Doug Yaeger & Lynne Hartwell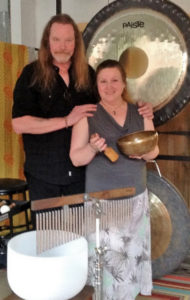 "Hope" is the thing with feathers –
That perches in the soul –
And sings the tune without the words –
And never stops – at all. Emily Dickinson
• Return your body ~ spirit ~ mind to a place of peace & tranquility – Manifest into your life what you truly intend.
• Positive energies of the evening with the healing and soothing sounds of gongs, Tibetan bowls, crystal pyramids, tingshaws, indigenous flute, drums and rattles, calming vocals and energy healing.
• Bring any intentions that you may have (what you want to bring into your life or what you want to let go of), and
have them heightened through the healing sound vibrations and energy.
You will be sitting or lying down for nearly an hour, so please bring a yoga mat or blanket, water to drink and/or anything else that makes you comfortable and relaxed.
Wednesday, March 21st
6:30 pm to 8:00 pm
$30 Per Person
Call or e-mail Meg's to reserve your spot.