Meg's is proud to host:
Sound Vibrational Energy
using Tibetan Singing Bowls
with Terry Nicholas RN, BSN
Energy Therapy Practitioner ~ Sound Vibrational Energy Practitioner
Weekdays from 11:30 am ~ 5:00 pm
$75.00 per hour (appointment required)
What is Vibrational Energy?
Everything in the Universe vibrates, each at its own rate. Living
organisms have an optimal vibration. When this optimal vibration
is changed, the functioning of the organism goes awry.
Tibetan Singing Bowls are made of seven different metals, each
metal vibrating at its own rate. Singing bowls, therefore, produce
several different tones from different vibratory materials.
These vibrations, when felt by a person, stimulate the cells and
help them to vibrate at their optimal level. The vibrations of
Tibetan Singing Bowls affect the body at a cellular level, and can
aid in healing the physical and spiritual bodies.
Uses of Tibetan Singing Bowls:
▪ Determine the status of a person's energy field.
▪ Strengthen a person's energetic being.
▪ Break up muscle spasms, stress and tension, soothing the body.
▪ Reduce pain.
▪ Relieve anxiety and depression.
▪ Aid in meditation and relaxation.
▪ Help to focus and clarify the mind
▪ Help to ground a person.
▪ Induce a sense of well-being, peace and harmony.
Spiritual/Psychic Medium
Denise Atkinson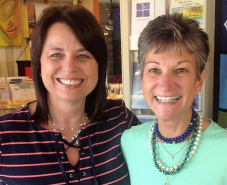 Since 1984, Denise has shared her gift with family, friends and now has been doing private readings with clients.
Denise channels her information from the highest possible source and diving guidance. The information she receives for you is personal, specific and genuine.
Denise has dedicated her life to help others with healing messages.
She believes, after our loved ones have cross over, they go through a life review and thus have a better understanding of the human condition.
Other times our loved ones just want us to know they are with us and will offer information for validation.
Spirit wants us to live our lives with compassion, love and forgiveness.
Date: April 26th

Time: 11:00 am – 6:00 pm
Cost: $65.00 for 30 min
Call, Email or Stop by, make your reservation soon!
Jewelry trunk show at Megs's
Meg's is proud to host:
-Trunk Show-
Gems, Crystals and Jewelry
Featuring: Great Falls Jewelry
Designer/Artist: Flora Brothers
Along with her designed One Of A Kind
jewelry pieces, Flora recently traveled to Arizona
So she will be bringing Gems and Crystals available for you.
Fun, Food and Friends…
Come Meet Flora Brothers, the owner and designer of Great Falls Jewelry. She is a second generation jeweler who has been making jewelry and working with natural stones since she was a child.
Saturday, April 21 ~ 12 noon – 4:00 pm