Truck Show – Handcrafted Jewelry, December 16th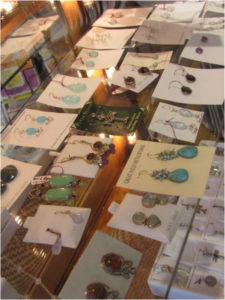 Truck Show…Handcrafted Jewelry
featuring Great Falls Metal Works
with Tea, Coffee, Mulled Cider and light snacks
This a wonderful way to choose special and unique stone jewelry for you or for gifts this Holiday Season. Come with your BFF, your sister(s), office co-workers, family, friends, any and everyone who loves jewelry.
About
Great Falls crafts fine jewelry using unusual, high-quality stones and metals.
Company Overview
In 1968, a young artist and her machinist husband began creating jewelry in their home. The couple's passion for graceful design and beautiful materials created Great Falls Metalworks, one of the few remaining U.S. based jewelry design and production studios. Today, 43 years after their first design, Great Falls continues its American artisan traditions. Jewelry crafted by Great Falls can be found in national and international catalogs, museum stores and galleries. The company is pleased to design custom pieces formuseums and art galleries.
Products
Earrings, rings, necklaces, bracelets, pins, cufflinks and one of a kind limited edition jewelry made
of natural stones and sterling silver, 14k or 18k gold.
Saturday, December 16 12:00 noon – 4:00 pm