Denise Atkinson, Spiritual Psychic and Medium
Spiritual/Psychic Medium
Denise Atkinson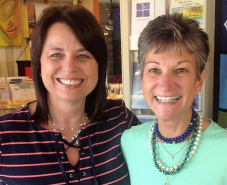 Since 1984, Denise has shared her gift with family, friends and now has been doing private readings with clients.
Denise channels her information from the highest possible source and diving guidance. The information she receives for you is personal, specific and genuine.
Denise has dedicated her life to help others with healing messages.
She believes, after our loved ones have cross over, they go through a life review and thus have a better understanding of the human condition.
Other times our loved ones just want us to know they are with us and will offer information for validation.
Spirit wants us to live our lives with compassion, love and forgiveness.
Date: April 26th

Time: 11:00 am – 6:00 pm
Cost: $65.00 for 30 min
Call, Email or Stop by, make your reservation soon!